型号/ Model:JC100

| | | | |
| --- | --- | --- | --- |
| 主要技术参数 Main specification | | | |
| | | | |
| | | | |
| | | | |
| | | | |
| | | | |
| | | | |
说明:可封18mm、22mm的 J形、C形。
Description: J-shape and C-shape with a thickness of 18mm or 22mm are possible.
应用/Application
一种意式极简风格家具门板应用,主要用于高端定制衣帽间、柜门、厨卫间、薄边柜等......门板免拉手,能实现 J形、C形软成形封边,满足您对极简空间设计应用。
An Italian minimalist style furniture door panel application, mainly used for high-end customized cloakrooms, cabinet doors, kitchen and bathroom rooms, thin side cabinets, etc... The door panels are handle-free, and can achieve J-shaped, C-shaped soft Shaped edge banding meets your needs for minimal space design applications.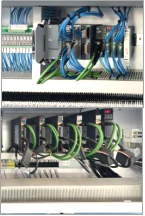 控制单元
Control unit
采用Ether CAT总线运动控制系统,对设备每个动作精准控制,在对设备每个动作功能选择时,总线控制器配合伺服动作和特殊的机械结构设计,精准快速达到每个位置,来实现各种形状的成型,省去了以往因为人工机械调节而浪费大量人工成本,和技术难度问题,同时也大大降低了对操作员的依赖性,只需按操作界面按键选择即可、精准高效,满足现代化家居风格多样化封边需求!
This machine is equipped with the Ether CAT bus motion control system, which can control every movement of the machine with great accuracy. Whenever a function is conducted, the bus controller will match the servo motion and the special mechanical structure to accurately locate every position to make different edge-banded shapes possible. This helps to reduce human costs and technical difficulties. At the same time, it also helps to reduce the dependency on operators. Through choosing function buttons on the screen, different shapes can be edge-banded with great accuracy and efficiency to meet customers' diverse needs for modern furniture.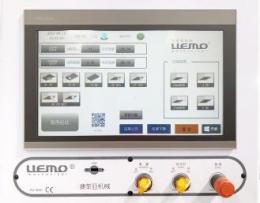 18mmJ形/C形一键切换
J-shaped/C-shaped one-key switch of18mm
为了满足用户的多元化需求,我们设计了两种不同厚度的板材供您切换选择,可通过触摸屏上18mm/22mm两个按键进行两种板材的切换加工,同时也可在两三种不同厚度板材之间选择J形C形进行封边,在实现多功能的同时也让您的操作更简单。
In order to satisfy customers' diverse needs, boards with different thicknesses are available as options. Customers can choose the board thickness of 18mm or 22mm as they like through pressing the on-screen buttons and can also process J-shape and C-shape edge-banding with different board thicknesses. This machine features multi-functions which can make the whole operating process easier.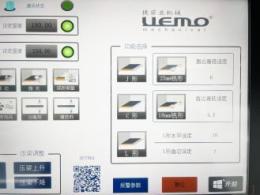 中心对称调整
Center symmetry adjustment
本单元是针对板材厚度有差异,优化调整功能。例如,按要求应使用18mm厚度板,但实际可能只有17mm,这样可能导致上直边拉手位置粘贴面积不够,出现粘贴不牢现象,可以通过此功能输入数值,将J形中心点往某一个方向进行微调移动,来合理分配上直边和下直边的粘贴面积和实现J形与板材中心对称的合理比例。
This unit is designed to optimize the differences caused by different board thicknesses. For example, according to requirements, a board with a thickness of 22mm should be used. But the actual thickness might be 21mm. In this case, the bonding area of the handle in the upper straight line may be insufficient, which might lead to poor adhesion. To address this problem, customers can enter a specific number on the screen to slightly move the center point of J-shape toward a direction to make the paste areas of both the upper straight line and the lower one reasonable and the center point of J-shape and that of the board proportional.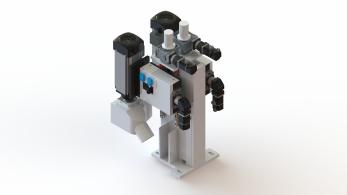 铣形单元
Milling unit
本单元主要是对板材进行铣形加工,利用金刚石铣刀,通过伺服控制系统来精确实现多种形状铣削。
This unit is designed to get the board milled. By using diamond milling knife, this device can get boards with different shapes milled accurately with serve control.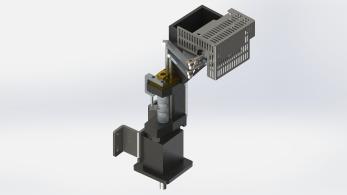 涂胶单元
Glue unit
采用上置胶锅涂胶,便于替换,同时配有预熔胶箱,保证胶锅内持续有新的热熔胶注入,避免了沉积的胶变色,又确保了连续使用时胶水的及时供应。
This unit is equipped with an upper glue box, which is convenient to be replaced. It's also equipped with a pre-melting glue box, which makes sure there is constant hot glue available to prevent the bottom glue from color-changing and there is constant supply of glue while the machine is working.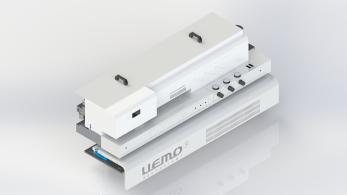 多功能组合压贴单元(专利设计,仿冒必究)
Multifunctional Edge pressing device (patented design, counterfeiting must be punished)
采用浮动式贴合方式,通过操作系统切换压贴单元,可精准地执行J形、C形贴合轨迹,省去人工调整消耗大量时间的问题。本压贴单元自带保温和软化装置,在成型过程中可以达到70℃,保证在完全成型前边带的软化度确保贴合到位,也大大降低了对使用环境的苛刻要求,再加上较短的贴合行程,可以使工件快速成型,避免在冬季因边带冷却导致贴合不到位对生产材料造成损失。
This machine is equipped with a floating pressing unit, which can get the J-shaped and C-shaped board pressed with accuracy and speed. This pressing unit has warming and softening features in it, which makes sure the temperature can reach 70℃ to soften the edge lines just fine before they totally get shaped. This helps to remove strict requirements on environments. Besides, with a short period of pressing, the board can get shaped quickly, thus avoiding raw-material wastes caused by poor adhesion due to low temperature in Winter.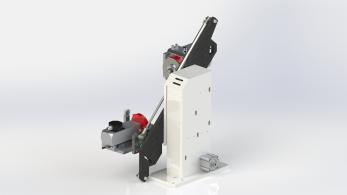 齐头单元
End - trimming device
本单元根据当前选择的封边类型,自动同步进入到J形、C形、L形需要切削的位置,简单便捷。
This unit automatically synchronizes to the positions where J-shaped, C-shaped, and L-shaped edges need to be cut based on the selected edge-banding type, which is simple and convenient.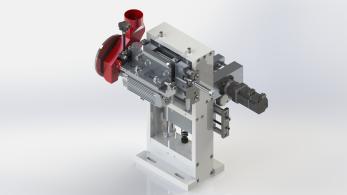 J形、C形修边单元
J-shaped/C-shaped trimming device
对18mm的J形、C形进行修边。修边单元利用伺服控制,可根据操作屏上选择的工作模式和封边形状进行修边,代替人工调节。
This unit is used to get J-shaped and C-shaped board trimmed. It is operated with servo control, which replaces manual adjustment through choosing specific working patterns and edge-banding shapes on the screen.